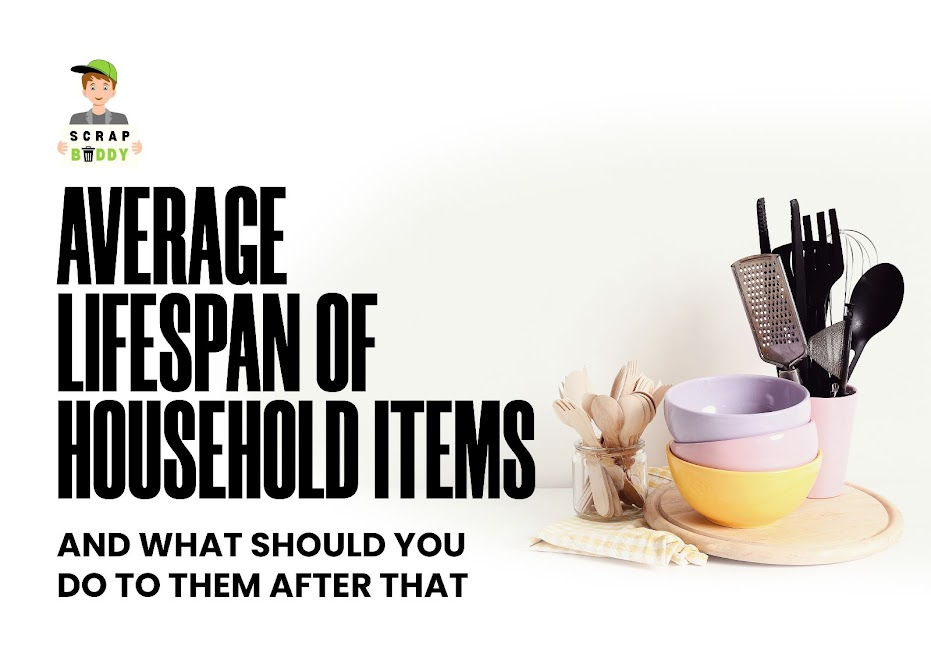 Average Lifespan of Household Items And What Should You Do To Them After That
Has it ever happened to you that your friend or relative said to you "Bhai yeh sofa kitna puraana ho gaya hai. Isko bech kyu nahi deta?"
And since we're so used to seeing our household or daily used items regularly that we don't even notice they are old till someone says it to us. Right?
So we thought why don't we give you a rough estimation of the average lifespan of household items? These expiration dates may give you a better idea of whether it's time to get rid of that old couch. We'll also tell you how you can sell them at SCRAPBUDDY, the best online kabadiwala, once they're past their expiration date.
So keep reading 'coz it'll only get interesting from here!


Average Lifespan of Household Items


AVERAGE LIFESPAN OF LIVING ROOM FURNITURE
First, let's start with the the hub of our daily activities at home — living room. The furniture in this space is subjected to a significant amount of wear and tear. This is particularly true if you have indoor pets or children.
Sofas, Couches and Recliners
Typically, a sofa or couch has an average lifespan of 7-15 years. As it nears the end of its lifespan, you may notice sagging cushions, creaking sounds, and worn-down fabric, indicating that it's time for a replacement. Recliners typically have a lifespan of around 10 years, but with gentle use, they can last even longer.
Coffee Tables and Side Tables
When it comes to tables, their lifespan is more dependent on style rather than function. Tables can often be found on yard sale sites or on sale at a reasonable price. However, if you frequently use your coffee table for dance parties or other activities that subject it to wear and tear, you may need to replace it more frequently.


AVERAGE LIFESPAN OF BEDROOM FURNITURE AND ITEMS
Bedroom Furniture
This is primarily a matter of personal style and interior decor. If you're looking to refresh the look of your room, one option is to update your furniture. Alternatively, you might want to consider experimenting with a new paint color first!
AVERAGE LIFESPAN OF APPLIANCES AND KITCHEN ITEMS


Refrigerators
A typical refrigerator has a lifespan of approximately 10-20 years.
Stoves
On average, a stove has a lifespan of around 13-15 years. Regular cleaning and maintenance can help extend its lifespan.
Washers
Typically, a washing machine has an average lifespan of around 11 years.
Dryers
A dryer typically has a lifespan of 8-12 years. Regularly cleaning the dryer vent can help increase its lifespan.
Dishwashers
The lifespan of a dishwasher is typically around 8-10 years. However, you can extend the lifespan of your dishwasher by following some maintenance tips.
Cookware
Typically, nonstick pots and pans have a lifespan of around 5 years. However, cast iron cookware can last for a much longer time.
OTHER IMPORTANT HOUSEHOLD ITEMS


Air Filters
To maintain good air quality in your home, it is important to replace the air filter regularly, ideally every 30-90 days. However, if anyone in your household has allergies or asthma, it is recommended to replace the filter more frequently, around the 30-day mark.
Smoke Detectors
Smoke detectors typically have a lifespan of around 10 years. However, it is essential to replace the batteries every year to ensure they are functioning correctly.
WHAT SHOULD YOU DO TO GET RID OF OLD HOUSEHOLD ITEMS?
Now that you're aware of the typical lifespan of common household items, you may have compiled a list of things that need to be replaced. However, removing and transporting these items can be inconvenient and time-consuming. If you find yourself in this situation, consider contacting SCRAPBUDDY - The Junk Removal Expert - for assistance in removing your unwanted household items.
WHY CHOOSE SCRAPBUDDY TO HAUL AWAY YOUR OLD HOUSEHOLD ITEMS?
SCRAPBUDDY can help with all your junk removal needs! Whether you're renovating or relocating, we take care of almost all the junk that generates in the process. Here's why choose SCRAPBUDDY.
Convenience: We makes it easy to get rid of your junk without leaving your home. You can schedule a pickup online and our Kabadiwala come to your doorstep to collect your items.
Eco-Friendly: We recycle or repurpose the items we collect, reducing waste and helping to preserve the environment.
Cost-effective: We offer competitive pricing for our services, making it an affordable option for those looking to declutter their homes.
Professional Service: We have trained professionals who are experienced in handling and transporting various types of items safely.


HOW TO BOOK YOUR JUNK PICKUP AT SCRAPBUDDY!
Follow the below process to schedule the pickup of your junk:
Visit

www.scrapbuddy.in

At the Home Page, select your waste type & weight. You'll get an estimate of price.

Now fill in the requisite details, like Phone number & address.

Select the Date you want your pickup to be scheduled for.
So don't wait anymore? Sell your old couch or anything recyclable at SCRAPBUDDY.