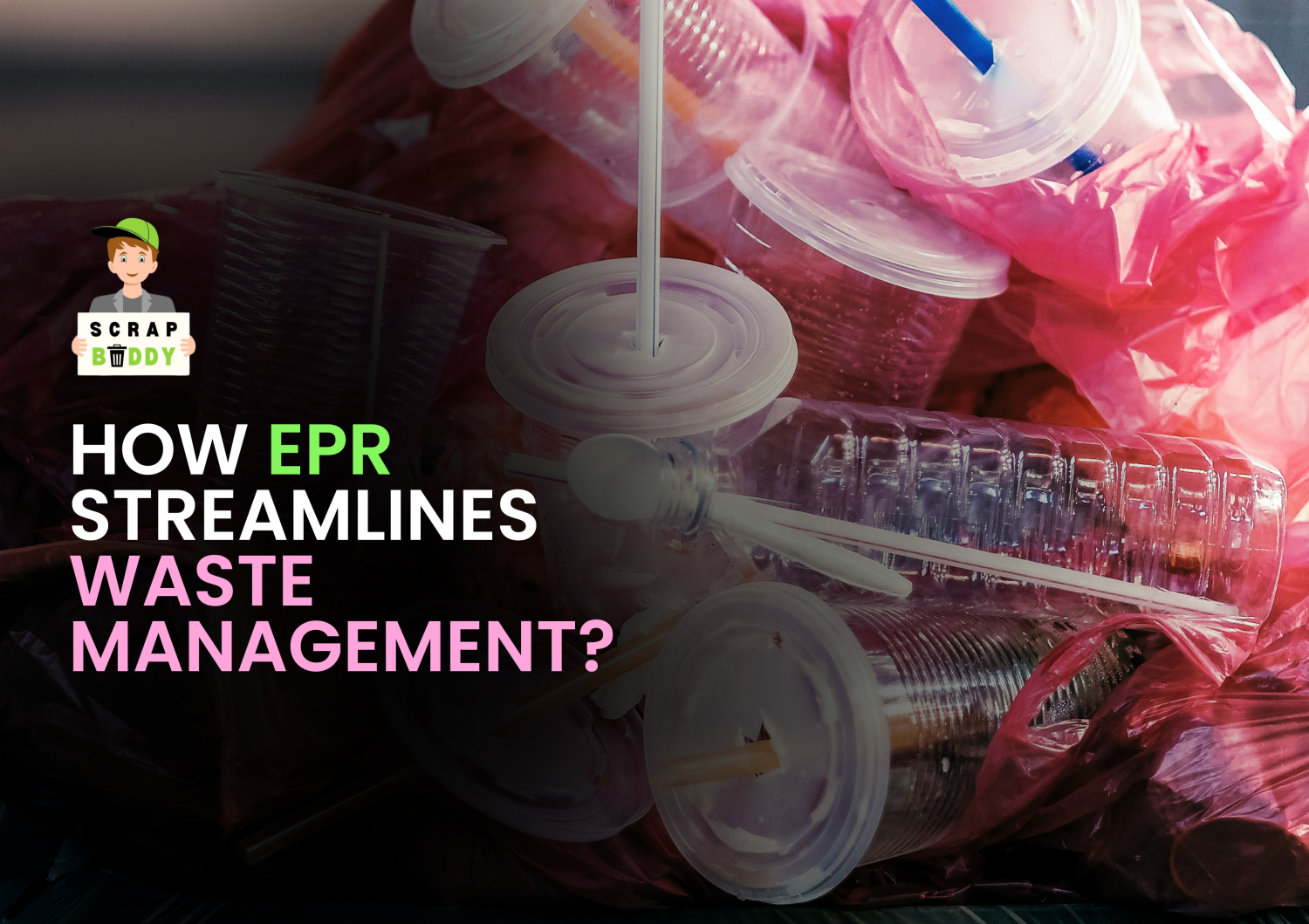 How EPR Streamlines Waste Management?
Did you know, according to a report, India consumed 18.45 million metric tonnes (MMT) of plastic in 2018-19; out of which 59% (~ 11 MMT) of plastic went only into packaging?
Now we can assume that because of the increased population and the 'Made in India' moment, domestic manufacturing has only increased during this time resulting in an increase in the packaging (plastic included). Right?
However, here's another shocking fact — a total plastic packaging of 2.26 million tonnes has been covered under Extended Producer Responsibility (EPR) for the year 2022-23.
So isn't the Govt. of India doing anything about it?
Yes, they are! As a matter of fact, EPR Regulation has already introduced in India in 2011. So what is this EPR? How does it contribute to Scrap Management? — Don't worry! We'll answer them all in this article. We'll also discuss how SCRAPBUDDY can help manufacturers with their EPR compliances.
Understanding the Importance of Scrap Management
In today's world, where environmental sustainability is a pressing concern, proper management of scrap has become crucial. Unmanaged scrap not only poses significant environmental risks but also misses out on valuable opportunities for businesses and individuals. In this section, we will delve into the importance of scrap management, the concept of Extended Producer Responsibility (EPR), and the benefits it brings to both businesses and individuals.
The environmental impact of unmanaged scrap
When scrap is left unmanaged or disposed of improperly, it can have severe consequences for the environment. Some of the key environmental impacts include:
Pollution
Unmanaged scrap can release harmful substances into the air, water, and soil, contributing to pollution. This pollution negatively affects ecosystems, wildlife, and human health. Let's see how:
Unmanaged e-waste can release toxic substances such as lead, mercury, cadmium, and brominated flame retardants into the environment, causing air, water, and soil pollution.
Unmanaged plastic waste can clog drains, choke animals, and contaminate water bodies. It can also release greenhouse gases such as methane and carbon dioxide when burned or decomposed.
Unmanaged scrap metal can cause injuries, fires, and explosions. It can also leach heavy metals and chemicals into the soil and groundwater.
Resource Depletion
As discussed in the introduction, about 11 MMT of plastic went only into packaging in 2018-19. This means that of all the petrochemicals produced in the country (29.1 MMT), more than 37% was used to manufacture plastics for packaging applications.
Many materials used in manufacturing products can be recycled or repurposed. However, without proper scrap management, these valuable resources are wasted and contribute to the depletion of natural resources.
Landfill Overload
Improper disposal of scrap leads to increased landfill waste. Landfills take up vast amounts of land and can lead to various issues such as groundwater contamination, air pollution, fire hazards, vector-borne diseases, and social conflicts.
India has about 3,500 landfills, covering more than 24,000 hectares of land area. Most of these landfills are unscientific, open dumps that emit foul smell, leachate, and methane gas. Some reports even suggest that India may need a New Delhi-size landfill for waste by 2050 if we don't do anything about waste management now.
Extended Producer Responsibility (EPR) and Its Significance
Extended Producer Responsibility (EPR) is an essential concept of "polluter pays" in waste management. It is a policy approach that places the responsibility on producers, importers, and brand owners to take ownership of their products throughout their lifecycle, including the management of post-consumer waste — i.e. collection, processing, and disposal of plastic waste generated from their products and packaging
Here's why EPR is significant:
EPR in India is implemented under the Plastic Waste Management Rules, 2016, which were amended in 2018 to include the Guidelines on Extended Producer Responsibility for Plastic Packaging. EPR in India aims to reduce plastic waste generation, increase recycling rates, and promote sustainable consumption and production patterns. EPR in India also helps in achieving the Sustainable Development Goals related to responsible consumption and production, climate action, life on land, and life below water
Accountability
EPR holds manufacturers accountable for the environmental impact of their products. It requires producers, importers, and brand owners to register with the Central Pollution Control Board (CPCB) or State Pollution Control Boards (SPCBs) and implement EPR plans through the online centralized portal developed by the CPCB. It also requires them to report their progress and achievements on a regular basis to the CPCB or SPCBs. EPR in India also ensures transparency and accountability by making the EPR data and information available to the public through the CPCB portal.
Lifecycle Approach
EPR promotes a lifecycle approach to product management, emphasizing the importance of designing products with recyclability and reusability in mind. This approach ensures that products have minimal impact on the environment from production to disposal. It also provides incentives and penalties for compliance and non-compliance with the EPR rules and guidelines. This encourages them to adopt sustainable practices and find innovative ways to reduce waste generation.
Collaboration
EPR in India also involves plastic waste processors (PWPs) who collect, sort, recycle, or dispose of plastic waste for producers, importers, and brand owners. It fosters collaboration among manufacturers, recycling facilities, and consumers, creating a more integrated and sustainable waste management system. By working together, stakeholders can develop efficient recycling processes and optimize resource utilization. It also involves various stakeholders such as local bodies, consumers, NGOs, and the informal waste sector to ensure effective implementation and monitoring of EPR.
In conclusion, understanding the importance of scrap management is crucial for businesses, individuals, and the environment. By recognizing the environmental impact of unmanaged scrap, embracing the concept of Extended Producer Responsibility (EPR), and adopting proper scrap management practices, we can create a more sustainable and eco-friendly world while reaping the benefits of cost. In the next blog, we'll learn how SCRAPBUDDY helps manufacturers and brands compliance with EPR regulations.


Highly Recommended Articles : SCHOOL AND EDUCATIONAL WASTE MANAGEMENT: A CRITICAL NECESSITY FOR A SUSTAINABLE FUTURE