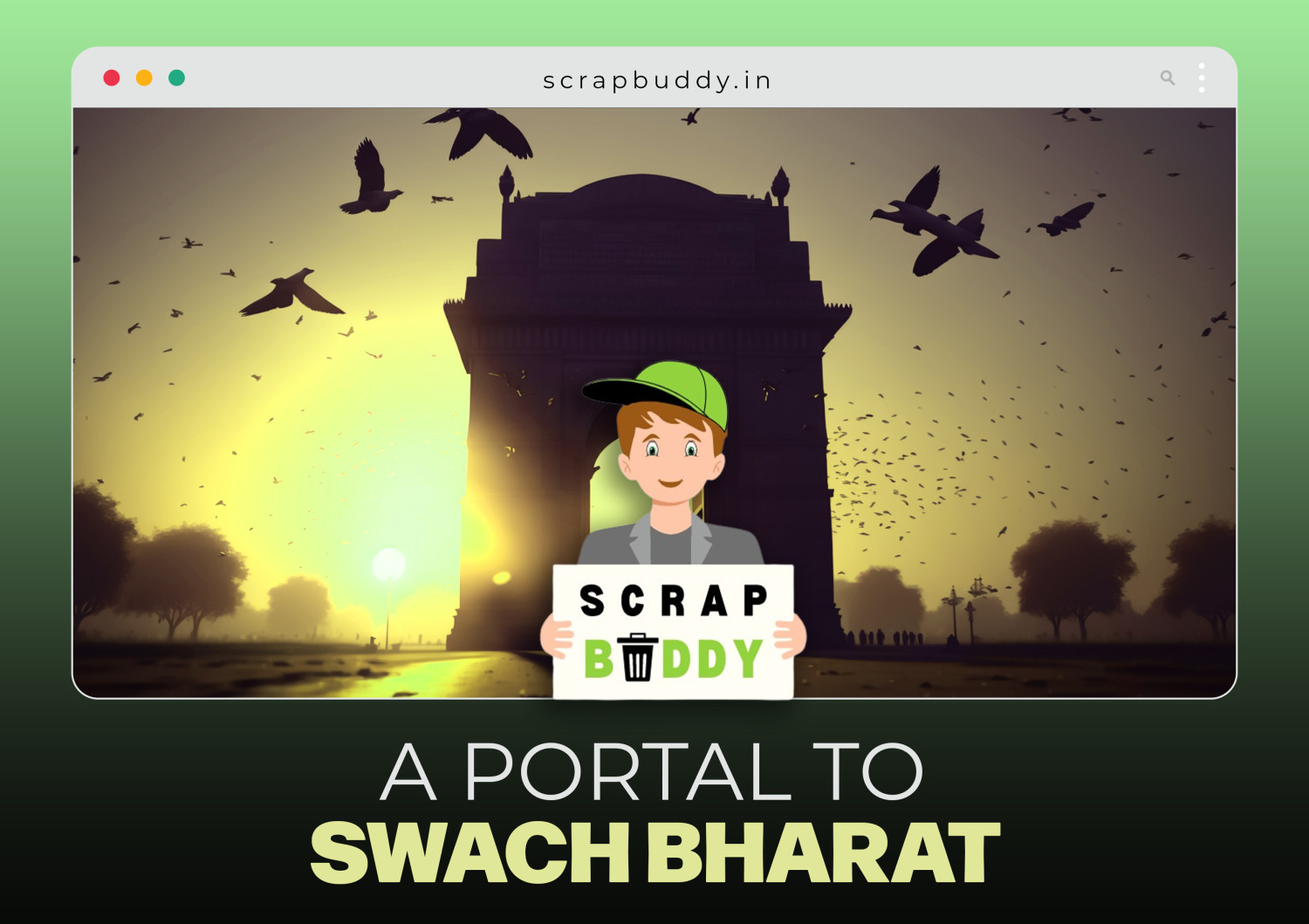 Scrapbuddy: A portal to SWACH BHARAT
Three things are certain in life – death, change, and waste! And today, we're going to talk about the third certainty, i.e. Death. Why? 'Coz we're SCRAPBUDDY, and that's what we do — Talk about waste!
While many people consider waste as something that is "of no value" and simply throw it away, that's where things go south. Your little 'every-waste-in-one' polythene bag comes back as a landfill-goliath, that pollutes the very environment in which you live & breathe in every possible way — Air, water, and land. And, doesn't matter where you live in India, you know that there's one such goliath around you, and is destroying our precious world as we speak. Scary, isn't it?
But at SCRAPBUDDY, we have a different take on waste. In the words of our Honorable Prime Minister Shri Narendra Modi



And in this article, we'll discuss all the आपदा this waste brings upon us, and how this online kabadiwala aka SCRAPBUDDY is converting it into a अवसर to make the स्वच्छ भारत अभियान a success. So stay tuned with us 'coz it will get only amazing from in here.
SCRAPBUDDY & SWACHH BHARAT — A match made in heaven!
But before moving any further, we want to ask all of you — What do you understand by SWACHH BHARAT?
Now let us guess what you thought — An India where there's no waste. Right?
Well, we hate to bring it to you, that's not true! Let's face it, we're human and humans make waste in one way or another. Therefore, that's not at all possible to eliminate the waste entirely, though you can reduce it to some extent through your efforts.
A SWACHH BHARAT is an India where nothing is wasted, not even the waste!
Now you must be thinking, "Have they gone crazy?" "How can waste be not wasted?"
We understand your confusion, and we're here to solve it only.
WASTE v/s WASTED
Let's understand it with a simple example — You peeled a banana and you ate it. The peel is now a WASTE. Then you threw the peel into the dustbin and it went to the landfill. Now it's WASTED.
You see, 'waste' is an opportunity to still create something out of it. While 'wasted' is a dead end, where it is of no further use.
The same things happen with your daily waste. If you mix your wet & dry waste, its only destination would be the landfill where it'll go under anaerobic reaction to emit Green House Gases (Like methane). It'll damage the nutrients of the land and also contaminate the groundwater sources.
We hope you're now clear about waste & wasted! Now let's understand how SCRAPBUDDY
SCRAPBUDDY — We don't let waste slip into landfills!
RECYCLING WASTE
As we said earlier, waste is not that big of a problem, but waste getting wasted surely is. Sadly, in India, 62 million tonnes of waste generates each year, and only 43 million tonnes of waste is collected. Out of which, 31 million tonnes of waste ends up in landfills. Now you see, more than 30% of waste is not even collected and 50% of overall waste is not fit for recycling further. And then we wonder why landfills are getting bigger & bigger.
SCRAPBUDDY provides people a platform that makes selling their recyclable dry waste super easy & rewarding so this precious gold doesn't end up in landfills.
FOSTERING HABIT OF WASTE SEGREGATION
After being so long in this business, we've realized one thing — Blaming only people for poor waste management is not right. Our decades-old waste management system is equally at fault here. As other nations have long moved to decentralized waste management, but we're still stuck with centralized waste management.
SCRAPBUDDY aims to foster a habit of waste disposal & segregation in youths & kids so that in coming years, we're close to recycling 100% of our waste. We do this by teaching kids about waste management through our various initiatives, and at the same time rewarding our adults every time they sell their waste to us.
CIRCULAR ECONOMY
One of the pillars of SWACHH BHARAT is circular economy. A circular economy promotes resource optimization, reduces raw material consumption, and recovers trash through recycling or repurposing as a new product. This has also been emphasized in Union Budget 2023-24.
With collected scrap being recycled, SCRAPBUDDY is contributing to the circular economy and hence empowering the SWACHH BHARAT ABHIYAN.
You May Also Like - SHORTCOMINGS OF TRADITIONAL KABADIWALA SYSTEM AND HOW SCRAPBUDDY IS IMPROVING IT


CONCLUSION
India is fighting a serious climate crisis and our waste management system, which has been left unchecked for decades, needs to be changed quickly if we want to avoid that. By fostering the habit of waste segregation and proper disposal among the young generation, SCRAPBUDDY works in tandem with SWACH BHARAT MISSION to process waste efficiently and contribute to the circular economy.
Now you know how this online kabadiwala aka SCRAPBUDDY is fighting the goliath of landfills. So join us in this fight, book your pickup today!