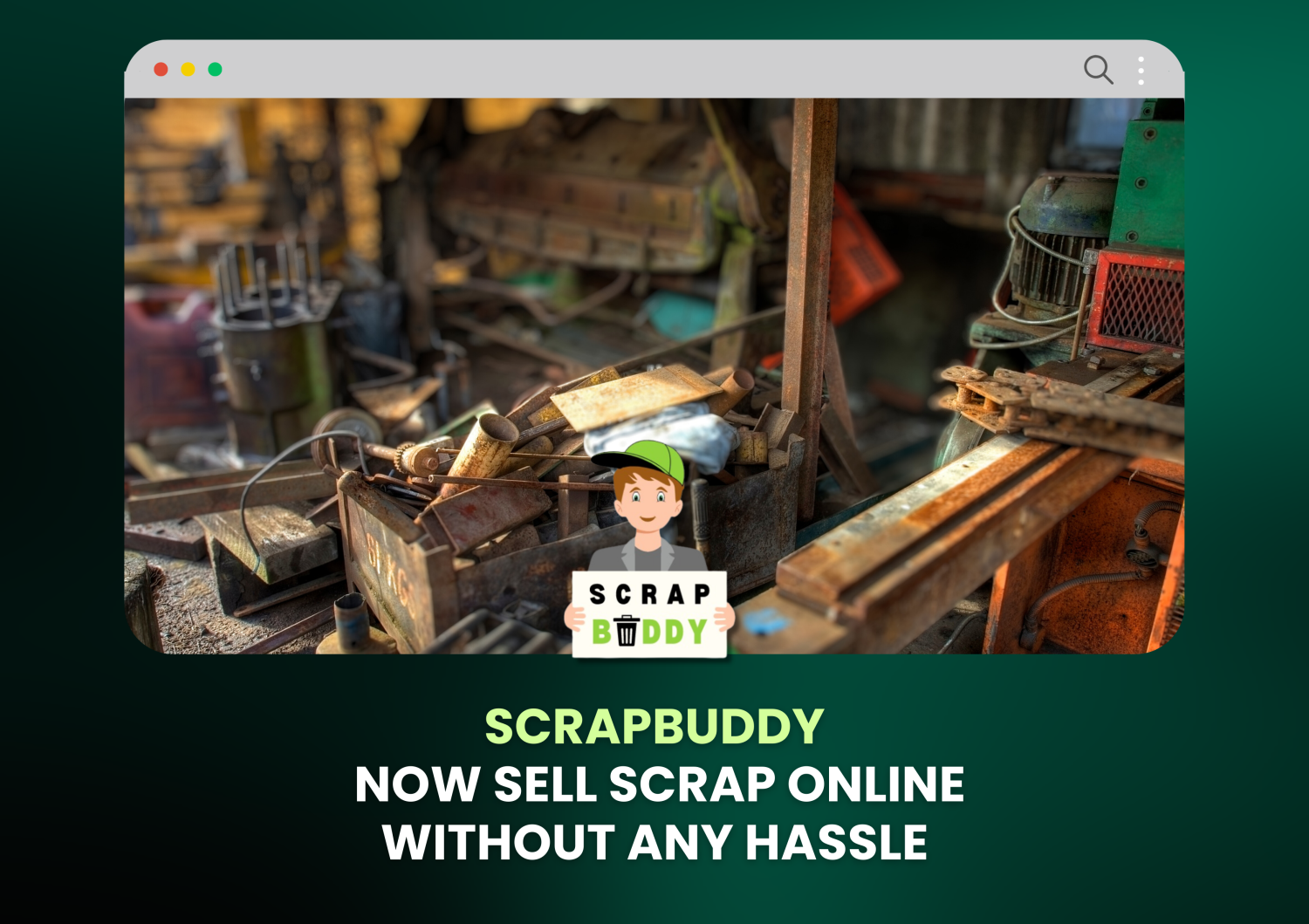 SCRAPBUDDY — Now Sell Scrap Online Without Any Hassle
Do you have unwanted scraps lying around your house or workplace? Are you looking for a convenient way to sell them without any hassle? Look no further than SCRAPBUDDY! SCRAPBUDDY is an innovative online platform that not only collects but also buys various types of scraps. In this article, we will explore the services provided by SCRAPBUDDY and the different types of scraps it accepts.
SCRAPBUDDY — The online kabadiwala in Delhi, Faridabad, Gurgaon, Noida & Greater Noida
SCRAPBUDDY is a Top Scrap Buyers in Delhi, Faridabad, Gurgaon, Noida & Greater Noida that aims to provide individuals and businesses with a convenient way to sell their unwanted scraps. By promoting recycling and responsible disposal of waste, SCRAPBUDDY contributes to a cleaner and more sustainable environment. With our user-friendly interface and hassle-free process, SCRAPBUDDY has become the go-to platform for selling scraps online.
Types of Scraps Accepted
SCRAPBUDDY accepts a wide range of scraps, including:
Electronics
If you have old electronic devices gathering dust in your attic or basement, SCRAPBUDDY is here to help. Now sell used electronics online in Delhi, Faridabad, Gurgaon, Noida & Greater Noida various electronic items such as smartphones, laptops, tablets, cameras, and other gadgets. Instead of letting these items become electronic waste, you can sell them to SCRAPBUDDY and contribute to a greener future.
Glass
Glass items like bottles, jars, and broken glassware are also accepted by SCRAPBUDDY. Instead of throwing them away where they could end up in landfills, you can sell them to SCRAPBUDDY and ensure they are recycled properly.
Plastic
SCRAPBUDDY plays a crucial role in reducing plastic waste. We are plastic scrap buyers in Delhi, Faridabad, Gurgaon, Noida & Greater Noida, and accept different types of plastic, including bottles, containers, packaging materials, and even certain plastic furniture. By selling your plastic scraps to SCRAPBUDDY, you are actively participating in global efforts to minimize plastic pollution.
Paper
Do you have stacks of old newspapers, magazines, or cardboard boxes lying around? SCRAPBUDDY is the answer to all your "old newspaper buyers near me" searches. We not only accept regular paper but also shredded paper and even paper waste from offices and businesses. SCRAPBUDDY ensures that the paper scraps are recycled efficiently, reducing the need for new paper production.
Metal
SCRAPBUDDY is a metal scrap buyer for various types of metal scraps. Whether you have old kitchen utensils, metal furniture, or scrap metal from construction projects, SCRAPBUDDY will buy them from you. By selling your metal scraps, you not only earn some extra cash but also contribute to the conservation of natural resources.
Furniture
SCRAPBUDDY goes beyond accepting smaller scraps and also deals with furniture. If you have old or unwanted furniture that you want to get rid of, you can sell old furniture online to SCRAPBUDDY. From chairs and tables to cabinets and beds, we accept a wide range of furniture items.
SCRAPBUDDY's Services
Apart from collecting and buying differentbuyingdifferent types of scraps, SCRAPBUDDY offers several other services to make the process even more convenient for its users. Let's explore some of these services:
Society Tie-ups
SCRAPBUDDY has established tie-ups with residential societies and communities to streamline the collection of scraps. We work closely with these societies to set up dedicated collection points, making it easier for residents to dispose of their scraps. This collaborative approach ensures efficient scrap collection and encourages community participation in recycling initiatives.
Hotels & Restaurant Tie-ups
Hotels and restaurants generate a significant amount of waste, including scraps such as food containers, bottles, and packaging materials. SCRAPBUDDY collaborates with these establishments to provide tailored solutions for scrap management. By partnering with SCRAPBUDDY, hotels and restaurants can ensure responsible disposal of their scraps, reducing their environmental impact.
Paper Shredding Services
For businesses and individuals concerned about data security, SCRAPBUDDY offers paper shredding services. We understand the importance of securely disposing of sensitive documents and provide shredding facilities to ensure confidential information remains protected. This service is particularly beneficial for offices, banks, and institutions that handle a large volume of paper-based documents.
Building Demolition Services
During construction or renovation projects, significant amounts of scrap materials are generated. SCRAPBUDDY offers building demolition services to handle such scrap effectively. From metal beams and pipes to concrete rubble, we have the expertise and equipment to dismantle and dispose of these materials safely and efficiently.
Vehicle Scrapping
SCRAPBUDDY extends its services to the scrapping of vehicles as well. If you have an old car or any other vehicle that you no longer need, SCRAPBUDDY can assist you in selling it as scrap. We ensure that the vehicle is properly dismantled and that the various components and materials are recycled or disposed of following environmental guidelines.
Read Also : CONFIDENTIALITY MATTERS: PROTECTING YOUR BUSINESS WITH SCRAPBUDDY'S PAPER SHREDDING
Conclusion
SCRAPBUDDY is revolutionizing the way we sell and dispose of scraps. With our user-friendly online platform and a wide range of accepted materials, we make the process convenient and environmentally friendly. By choosing SCRAPBUDDY, you not only earn money from your unwanted scraps but also contribute to a cleaner and more sustainable future.