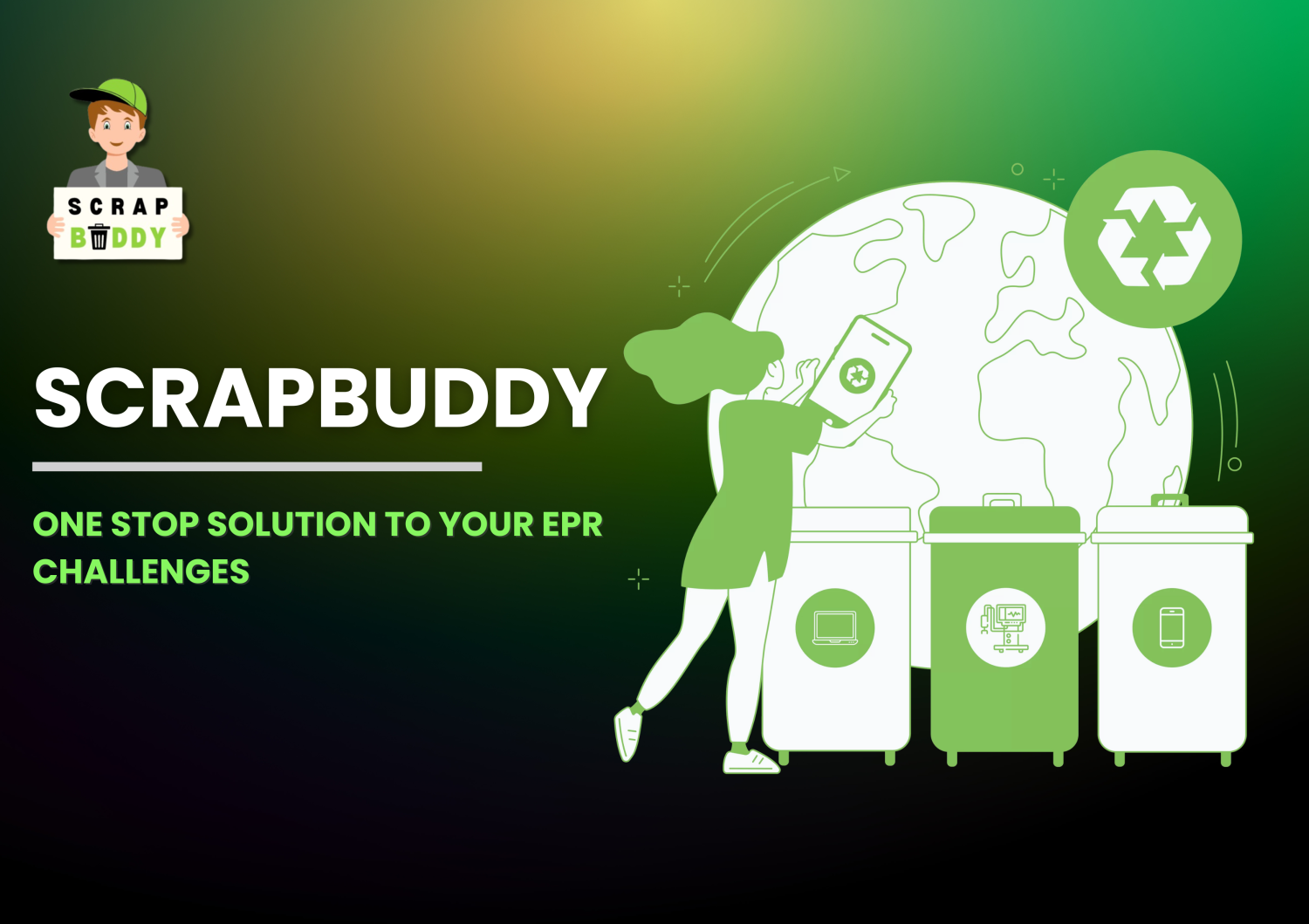 SCRAPBUDDY - One Stop Solution To Your EPR Challenges
Looking For Best EPR Online Service In Delhi?
Brands, not only around the globe but in India too, are under constant pressure to take care of their products or the solid waste it generates till the end of the lifecycle of those products. The EPR Online Service is known as Extended Producer Responsibility (EPR). However, only 200 Indian companies have registered themselves for EPR Online Service so far.
But if EPR Online Service in India is really as straightforward as it seems, why haven't the brands adopted it by now? There must be some challenges that are stopping brands from fulfilling their EPR goals.
So what are those challenges and how SCRAPBUDDY help brands overcome them? — We're going to discuss it and much more in this blog.
SCRAPBUDDY — Your Trusted EPR Online Service Partner in India
DID YOU KNOW?
According to the Plastic Waste Management Rules 2016, producers, importers, and brand owners of plastic products are responsible for the collection and recycling of the plastic waste they generate through their business activities. This is known as Extended Producer Responsibility (EPR)
According to the E-Waste (Management) Rules, 2016, producers of electrical and electronic equipment are required to collect back 30% of their estimated waste generation during the first two years, and gradually increase it to 70% by the seventh year as per Extended Producer Responsibility (EPR).
And we're not posting these only for the sake of posting, but to spread awareness about EPR online service
However, despite all these regulations, brand waste can easily be found even in streets. So the question is what are the challenges to EPR Services in India.
EPR Imlementation Challenges In India
Waste Type and Segregation
A lack of consumer awareness regarding the nature of waste, such as the toxicity of e-waste when not properly disposed of, poses a significant challenge. The absence of waste segregation at the source burdens local authorities and waste collectors, hindering the implementation of EPR programs by Producers Responsibility Organizations (PIBOs).
Inadequate Infrastructure
While the informal sector plays a significant role in waste recycling, it operates with limited infrastructure. Conversely, waste disposal, collection, processing, and recycling facilities in urban local bodies (ULBs) suffer from understaffing and inadequate infrastructure. This situation, coupled with geographic variations, leads to poor logistics and potential waste leakages within the system.
Lack of Action Despite Awareness
Despite awareness campaigns conducted by ULBs and brands regarding effective waste management, there is a gap between knowledge and action among consumers. This lack of translation into proper waste management practices impedes EPR implementation efforts.
System Gaps
Significant gaps exist between recyclers, aggregators, and waste generators, as well as between government authorities and PIBOs within their respective jurisdictions. Digitizing waste management processes is urgently needed to streamline and efficiently manage waste throughout the system.
How SCRAPBUDDY Overcomes These Challenges
Waste Segregation at Source
By offering a convenient platform for individuals to sell their scrap, SCRAPBUDDY incentivizes proper waste disposal and recycling practices. This not only encourages active participation from consumers but also promotes waste segregation at source. Through awareness campaigns and user-friendly guidelines, SCRAPBUDDY ensures that waste is properly segregated, facilitating efficient recycling processes.
Wide Network of Kabadiwalas
SCRAPBUDDY has built a vast network of kabadiwalas (non-registered waste collectors) who actively participate in waste collection. These kabadiwalas serve as vital intermediaries between households and recycling centers, ensuring that recyclable materials are efficiently collected from the source.
State-of-the-Art Infrastructure
SCRAPBUDDY leverages state-of-the-art infrastructure to establish proper waste collection mechanisms. With the help of advanced technology, including specialized vehicles and equipment, SCRAPBUDDY ensures that waste is collected, transported, and processed in a responsible and sustainable manner.
Complete Scrap Collection and Recycling Services
SCRAPBUDDY eliminates the gaps in the system by providing comprehensive scrap collection and recycling services. The platform ensures a streamlined process from waste collection to recycling, reducing the burden on government authorities and bridging the gap between waste generators, recyclers, and aggregators.
Benefits of Choosing SCRAPBUDDY as Your EPR Service Partner in Delhi-NCR
SCRAPBUDDY provides EPR Service Delhi-NCR that includes Faridabad, Noida, Greater Noida, Gurugram, Dwarka, etc. Here are the benefits you get by partnering with SCRAPBUDDY.
Convenience and Efficiency
SCRAPBUDDY offers a range of benefits that simplify the scrap management process, making it a convenient and efficient choice as your Extended Producer Responsibility (EPR) partner.
Simplified Scrap Management
SCRAPBUDDY provides a user-friendly online platform that simplifies the process of selling scrap materials. The platform's intuitive interface and transparent pricing make it easy for customers to sell their scrap items hassle-free.
Time and Effort Savings
By partnering with SCRAPBUDDY, customers can save valuable time and effort in managing their scrap materials. The platform streamlines the collection and recycling process, eliminating the need for customers to individually reach out to scrap buyers or waste collectors. It allows customers to schedule the pickup of their scrap at their convenient day.
Environmental Impact
Choosing SCRAPBUDDY as your EPR Online Service partner has a positive environmental impact, contributing to sustainable waste management and resource conservation.
Reduction of Landfill Waste
By selling scrap materials to SCRAPBUDDY, customers actively contribute to reducing landfill waste. Instead of ending up in landfills, these materials are recycled, reducing the environmental burden and promoting a more sustainable waste management approach.
Conservation of Resources
SCRAPBUDDY plays a crucial role in conserving natural resources. Through effective recycling processes, valuable resources are extracted from scrap materials, reducing the need for new raw materials. This helps preserve natural resources and reduces the environmental impact associated with resource extraction.
Promotion of Circular Economy
SCRAPBUDDY actively promotes a circular economy by facilitating the proper recycling and reuse of scrap materials. By extending the life cycle of these materials, SCRAPBUDDY contributes to minimizing waste generation and promoting a sustainable economic model.
Competitive Pricing and Rewards
SCRAPBUDDY offers competitive pricing for scrap materials, along with additional rewards and incentives for customers, making it financially beneficial to choose SCRAPBUDDY as your EPR partner.
Competitive Pricing Structure
SCRAPBUDDY ensures that customers receive fair and competitive prices for their scrap materials. The platform provides a rate-chart of various scraps to customers while booking their pickup, ensuring that they receive the best value for their scrap items.
Rewards and Incentives
SCRAPBUDDY may offer rewards and incentives to customers who actively participate in the EPR Online Service program. These rewards can include discounts, loyalty points, or other benefits, further enhancing the financial value of partnering with SCRAPBUDDY.
With its comprehensive approach to waste management, SCRAPBUDDY represents an exemplary solution that addresses the challenges of EPR implementation. It simplifies scrap management, reduces environmental impact, and offers financial advantages. By partnering with SCRAPBUDDY, you actively participate in creating a more sustainable future, while enjoying the convenience and benefits of an efficient EPR Service Online In Delhi. Choose SCRAPBUDDY as your preferred EPR partner and contribute to a cleaner, greener world.

Highly Recommended Article : SCRAPBUDDY TO SOLVE INDIA'S WASTE DISPOSAL PROBLEM