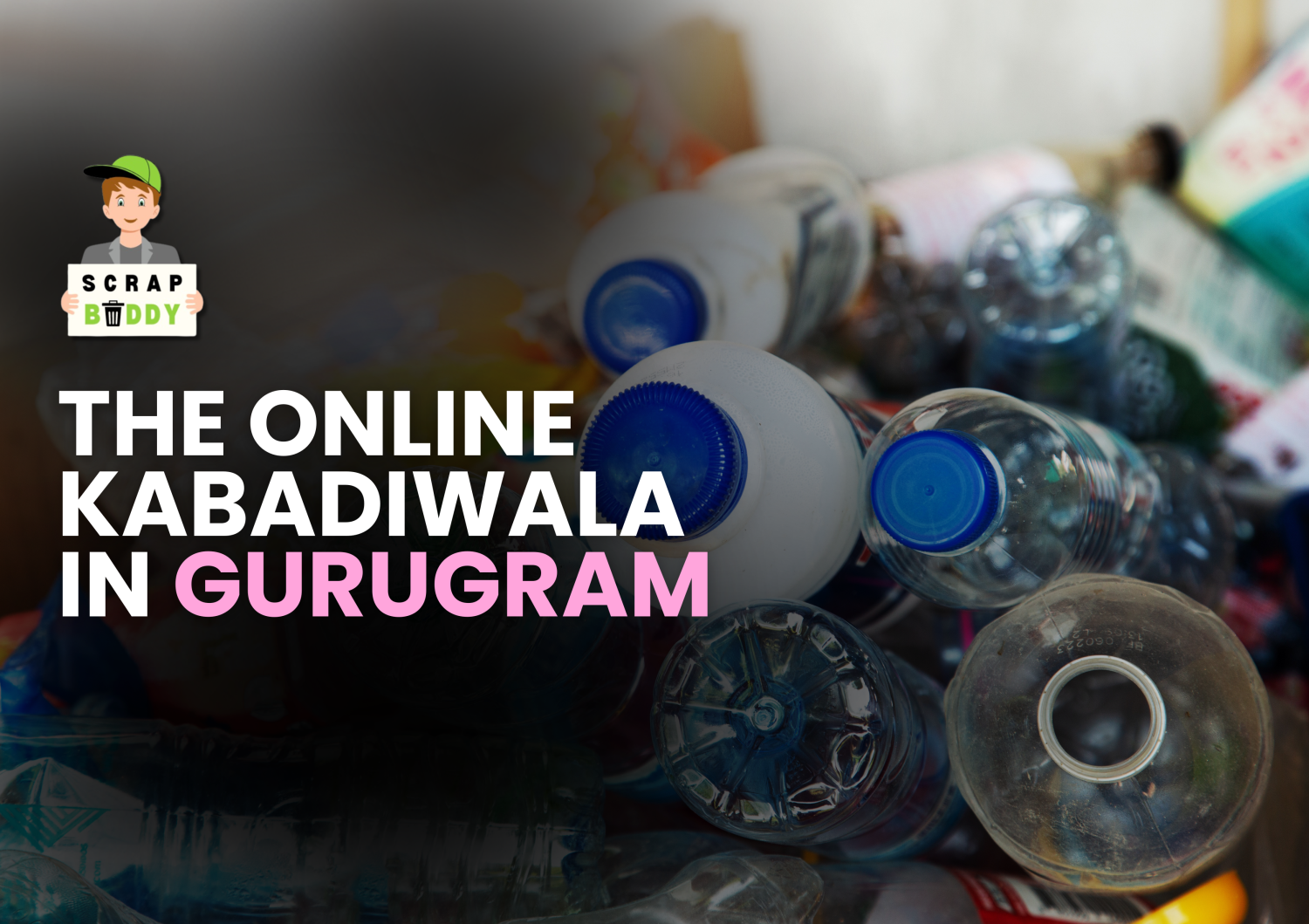 SCRAPBUDDY — The Online Kabadiwala in Gurugram
DID YOU KNOW?
According to the Central Pollution Control Board (CPCB), Gurugram generated 1,100 tonnes of solid waste per day in fiscal year 2020. This was the highest among districts in Haryana, followed by Faridabad with 900 tonnes per day.
In a world where waste management has become an urgent concern, there are individuals who step up to the challenge and become the driving force behind sustainable solutions. Scrapbuddy is one such remarkable figure in Gurugram, known as the best online kabadiwala in the region. In this article, we delve into the exceptional services provided by Scrapbuddy, exploring our commitment to waste management and our instrumental role in promoting a cleaner and greener Gurugram.
Scrapbuddy — Online Scrap Buyer in Gurugram
Gurugram, the 'millennium city of India', has been grappling with mounting waste management issues in recent years. However, amidst this challenge, Scrapbuddy has emerged as the ultimate scrap aid in the region, providing effective solutions for waste disposal and recycling. Our exceptional services have garnered us the reputation of being the go-to resource for individuals and businesses seeking responsible waste management practices in Gurugram.
Scrapbuddy's commitment to environmental sustainability sets us apart from the rest. We have implemented a comprehensive waste management system that emphasizes the importance of recycling and responsible disposal. By offering efficient and reliable scrap collection services, Scrapbuddy ensures that valuable resources are not wasted and are instead recycled or repurposed for further use.
One of the key factors that contribute to Scrapbuddy's success is our wide network of partnerships with recycling facilities and scrap buyers. This enables us to handle a diverse range of materials. From old AC buyer to metal scrap buyer and plastic scrap buyers in Gurugram — we're a one-stop solution for your every waste need. By connecting these materials to the right channels for recycling, Scrapbuddy ensures that they are given a new lease on life, preventing them from ending up in landfills and causing further harm to the environment.
Scrapbuddy's dedication to customer convenience is evident in our user-friendly approach to waste management. With the help of our user-friendly website, individuals and businesses in Gurugram can easily schedule scrap pickups at our preferred time and location. This streamlined process not only saves time but also encourages more people to participate in responsible waste disposal practices.
Only 36% of households in Gurugram are segregating their waste at present, according to a survey done by MCG's solid waste management concessionaire Ecogreen. This means that most of the waste is mixed and not suitable for recycling or composting. Beyond our core services, Scrapbuddy goes the extra mile to educate and engage the community in Gurugram. We organize workshops and awareness campaigns to spread the importance of recycling and responsible waste management practices. By actively involving the residents, Scrapbuddy fosters a sense of environmental consciousness and encourages everyone to become active participants in creating a cleaner and greener city.
Groundwater pollution
The Bandhwari landfill, where most of the city's waste is dumped, is located near the Aravalli hills, which are a major source of groundwater recharge for the region. The landfill is is 37m tall now & 1,800 tonnes being added daily. The leachate from the landfill seeps into the soil and contaminates the groundwater, which is used for drinking and irrigation by nearby villages. This poses risks to the health and livelihoods of the people, as well as the flora and fauna of the Aravalli ecosystem.
Air pollution
The burning of waste, either at the landfill or by the residents, releases harmful gases and particulate matter into the air, which affect the respiratory health and quality of life of the people4. Air pollution also contributes to climate change, as waste burning emits greenhouse gases such as carbon dioxide and methane. Gurugram is one of the most polluted cities in India, with an average annual PM2.5 concentration of 135.8 micrograms per cubic meter. This is 9.2 times the WHO annual air quality guideline value
Land degradation
The accumulation of waste on landfills and dumpsites degrades the soil quality and reduces the availability of land for other purposes. Landfills also emit greenhouse gases such as methane and carbon dioxide, which contribute to global warming. Land degradation also affects the biodiversity and aesthetics of the city.
Through our efforts, we are not only aiming for significant reduction in waste accumulation, but also for a noticeable improvement in the overall cleanliness and environmental quality. The services provided by Scrapbuddy have transformed waste management into a community-driven initiative, inspiring individuals and businesses to prioritize sustainability and contribute to a healthier ecosystem.
In conclusion, Scrapbuddy stands as the ultimate scrap aid in Gurugram, offering effective waste management solutions and promoting sustainability. Our comprehensive services, combined with our dedication to customer convenience and community engagement, have made us an invaluable resource in the battle against waste. Scrapbuddy's commitment to a cleaner and greener Gurugram serves as a beacon of hope and inspiration for individuals and businesses alike, encouraging everyone to embrace responsible waste management practices and work towards a sustainable future.

Read Also : YOUR SCRAP MATTERS: CREATE A POSITIVE IMPACT BY SELLING YOUR SCRAP TO SCRAPBUDDY