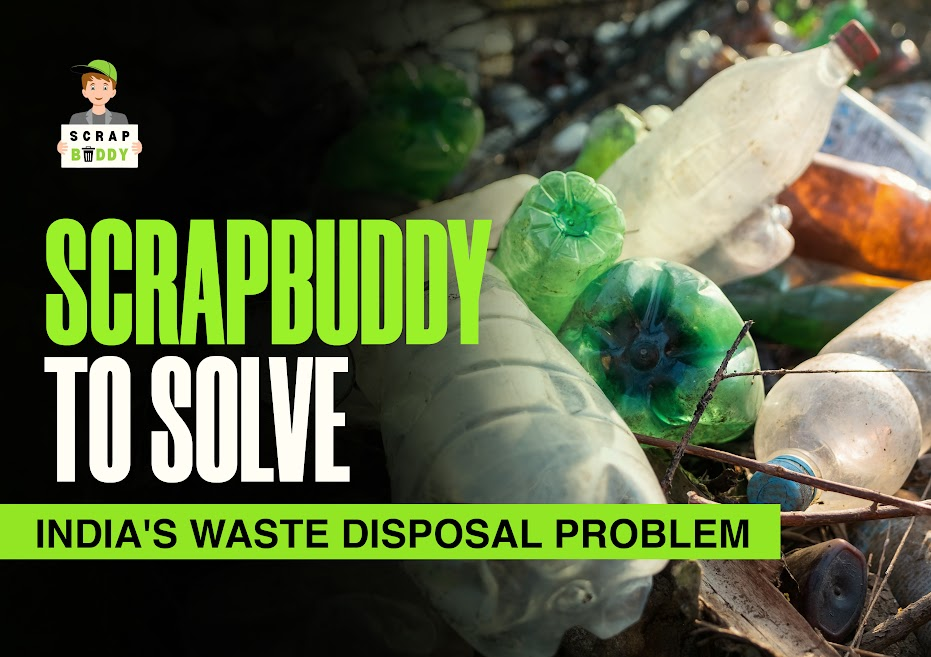 SCRAPBUDDY TO SOLVE INDIA'S WASTE DISPOSAL PROBLEM
India is facing a major waste disposal problem, with the country generating a staggering amount of waste every day. According to a report by the Central Pollution Control Board, India produced 62 million tonnes of waste in 2019 alone.
With limited resources to manage this waste, the country is struggling to find sustainable solutions. However, a new trend of selling scrap to online kabadiwalas is emerging as a potential solution to this problem. And when we talk about these digital scrap dealers, SCRAPBUDDY comes out on the top. It is revolutionizing the waste management industry by providing a convenient and eco-friendly way to dispose of scrap materials. Not only does this help reduce the amount of waste that ends up in landfills, but it also provides an additional source of income for individuals and businesses.
In this article, we will explore how SCRAPBUDDY is a game-changer for India's waste disposal problem.
The traditional kabadiwala system
Kabadiwalas have been an integral part of the Indian waste management system for decades, especially in urban areas where there is a large amount of waste generated.
Traditionally, kabadiwalas operated by going door-to-door to collect scrap materials from households and businesses. They would then weigh the materials and offer a price based on the weight and quality of the items. This system was effective in managing the waste generated in urban areas, but it had its drawbacks. For instance, the prices offered by kabadiwalas were often low, and there was no way to compare the prices offered by different dealers. Additionally, the process of selling scrap to kabadiwalas was time-consuming and required individuals to separate and store their scrap materials.
The rise of online kabadiwala - SCRAPBUDDY
SCRAPBUDDY, since its inception, has been a prominent part of India's waste management system. Our online digital platform makes it easier for individuals and businesses to sell their scrap materials. With our innovative tech solutions, we are able to offer several benefits over traditional kabadiwalas.
Firstly, we offer the best prices for scrap materials as their overhead costs are lower.
Secondly, the process of selling scrap to us is simple and convenient. Individuals can simply select the type & weight of their scrap materials on our website, and select the date for their scrap pickup.
Finally, we offer doorstep pickup, saving individuals the hassle of transporting their scrap materials to a dealer.
Waste Management Challenges in India
India faces significant waste management challenges due to its rapidly growing population, urbanization, and consumption patterns. Some of the key challenges include:
Inefficient Collection and Transportation: The existing waste collection and transportation systems in India are inefficient and ineffective, leading to delays, under-collection, and inadequate waste processing. This results in increased health and environmental risks, particularly for the urban poor.


Inadequate Treatment and Disposal: Most of the waste generated in India is either landfilled or dumped, with only a small fraction being treated or recycled. This has led to a range of environmental and health problems, including pollution of air, water, and soil.


Lack of Awareness and Education: There is a lack of awareness and education among the general public regarding waste management practices. This results in poor waste segregation and disposal habits, which further exacerbates the waste management challenges in the country.



Limited Funding and Investment: The waste management sector in India has limited funding and investment, which has hampered the development of new technologies and innovative solutions.
How SCRAPBUDDY is contributing to waste management
As mentioned above, India is facing significant waste management challenges, which include a lack of infrastructure, inefficient collection and transportation, inadequate treatment and disposal, lack of awareness and education, policy and regulatory challenges, and limited funding and investment. However, SCRAPBUDDY's online scrap selling platform is helping to address some of these challenges in the following ways:
Improving waste collection and transportation: We help to streamline the waste collection and the transportation process by providing a convenient way for households and businesses to sell their recyclable waste. This reduces the burden on local authorities and promotes responsible waste disposal practices.


Encouraging waste segregation: We promote waste segregation by offering different prices for different types of recyclable waste. This helps to incentivize households and businesses to separate their waste and dispose of it responsibly.


Promoting awareness and education: We also promote awareness and education about waste management practices through their websites and social media channels. This helps to raise awareness about the importance of responsible waste disposal and encourages more people to use these platforms.



Supporting innovation and technology: We're motivated to introduce innovation and technology in the waste management sector. By leveraging modern technology, we're finding ways to make the waste collection process efficient.
Read Also : THE ZERO WASTE MOVEMENT: ACHIEVING A WASTE-FREE LIFESTYLE THROUGH SUSTAINABLE HABITS


In addition, we are providing a source of income for informal waste pickers, who often work in hazardous conditions and receive very low wages. By providing a fair price for recyclable waste, we are helping to improve the livelihoods of waste pickers.
We're doing our every bit to improve the waste management system of India. If you want to do your bit, just visit www.scrapbuddy.in and book your pickup today.