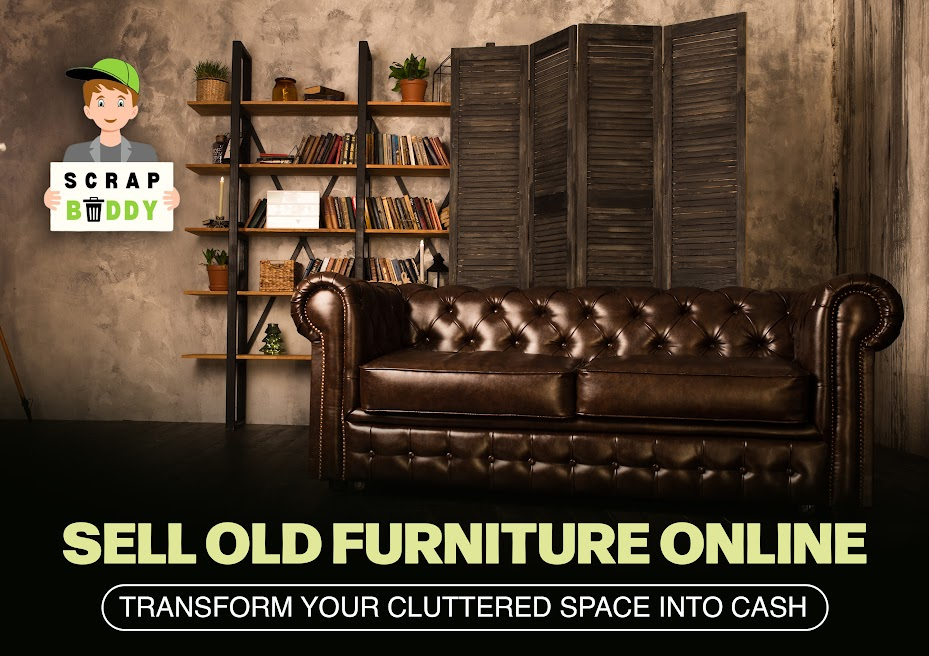 Sell Old Furniture Online: Transform Your Cluttered Space into Cash
Looking to sell old furniture online?
Are you tired of your cluttered space? Is it time to sell old furniture online with ScrapBuddy and bid farewell to those old furniture pieces that have lost their charm?
Well, you're in luck! In this blog post, we will explore the exciting world of turning your cluttered space into a profitable venture by selling old furniture online. Not only will you reclaim valuable space in your home, but you'll also be able to transform those unwanted items into cold, hard cash.
In this article, we will delve into two crucial aspects of this process. Firstly, we'll discuss why selling old furniture online at SCRAPBUDDY is a smart move, highlighting the numerous advantages it offers. And secondly, we'll guide you through the process of decluttering your space and help you make informed decisions about what to sell.
So, grab a cup of coffee, put on your entrepreneurial hat, and get ready to embark on a journey of transformation, both in your living space and your financial situation.
Why to sell old furniture online is a smart move?
In this digital age, SCRAPBUDDY has revolutionized the way we buy and sell goods. When it comes to sell old furniture, going the online route offers a plethora of advantages. From convenience to flexibility, we'll explore why online selling is the smart choice for transforming your cluttered space into cash. So, let's dive in and discover the benefits that await you!
Easy and Convenient Scrap Collection
ScrapBuddy offers a seamless and hassle-free experience for selling your old furniture. With their online platform, you can easily schedule a scrap pickup at your convenience. No more struggling with transporting heavy furniture or finding suitable disposal options. ScrapBuddy takes care of the logistics by sending their professionals to your doorstep to collect the items, saving you time, effort, and potential transportation costs.
Environmentally Friendly Approach
If you sell old furniture online through ScrapBuddy, you are contributing to a more sustainable and environmentally friendly solution for waste management. Rather than letting your furniture end up in landfills, where it can take years to decompose and potentially release harmful substances, ScrapBuddy ensures that the materials are properly recycled or repurposed. This reduces the strain on natural resources and helps minimize the carbon footprint associated with furniture disposal.
Ethical and Responsible Recycling Practices
ScrapBuddy prioritizes ethical and responsible recycling practices. They have established partnerships with recycling centers and organizations that specialize in processing and repurposing various materials. When you sell your old furniture through ScrapBuddy, you can trust that it will be handled in an environmentally conscious manner, ensuring that valuable resources are recovered and reused, further contributing to a circular economy.
Monetary Compensation for Your Scrap
One of the significant advantages of using ScrapBuddy is that they offer monetary compensation for your scrap items. While traditional disposal methods often involve additional costs, ScrapBuddy provides an opportunity to earn some cash from your old furniture. By selling your items to ScrapBuddy, you not only get rid of clutter but also receive financial benefits, making it a win-win situation for both your wallet and the environment.
Safe and Secure Transactions
ScrapBuddy prioritizes safety and security throughout the entire process. Their online platform ensures that your personal information remains protected, and their pickup professionals are carefully vetted and trained. You can have peace of mind knowing that your transactions with ScrapBuddy are secure and reliable, without the need to worry about scams or potential risks associated with selling furniture privately.
You May Also Read : HOW DOES RECYCLING SAVE MONEY FOR CONSUMERS?‍
How to declutter your space and sell old furniture online
Clutter can be overwhelming, and knowing where to start can be a daunting task. Fear not! In this section, we'll guide you through the art of decluttering your space. We'll share practical tips and strategies to help you tackle each room systematically and make the decision-making process easier. By the end, you'll have a clear vision of what items to sell and how to maximize their selling potential. So, roll up your sleeves and let's create a clutter-free environment that brings both peace of mind and financial rewards.
Evaluate Your Furniture
When decluttering your space with the intention of selling items through ScrapBuddy, it's important to evaluate your furniture with a specific focus on its condition and suitability for scrap collection. Consider factors such as damage, wear and tear, functionality, and materials used.
Determine Scrap-Worthy Items
Identify the furniture pieces that are most suitable for scrap collection. Look for items made from materials like metal, aluminum, steel, or other recyclable materials. Items such as old metal bed frames, broken metal chairs, or aluminum patio furniture can be excellent candidates for ScrapBuddy's scrap pickup service. However, keep in mind that certain materials may not be accepted, so it's important to review ScrapBuddy's guidelines and restrictions before scheduling a pickup.
Separate Scrap from Sellable Items
As you declutter, separate the furniture that is suitable for scrap collection from those that could potentially be sold through other avenues. If you have pieces that are still in good condition or have resale value, consider setting them aside for other selling platforms or donation. This way, you can optimize the potential value you can generate from your decluttering efforts.
Schedule a Scrap Pickup Online
Once you have identified the furniture pieces you want to sell as scrap, it's time to schedule a scrap pickup with ScrapBuddy. Visit their website or use their online platform to schedule a pickup at a date and time that works best for you. Input relevant details such as your location, contact information, and a brief description of the items you want to sell. ScrapBuddy's convenient online scheduling system makes the process quick and efficient.
Prepare Your Scrap Items
Before the scheduled pickup, make sure to prepare your scrap items accordingly. Remove any personal belongings or attachments from the furniture pieces to ensure a smooth collection process. If necessary, disassemble larger items to make them easier to handle. Taking these steps will help ensure a seamless pickup experience when ScrapBuddy's professionals arrive at your location.
Say Goodbye to Clutter
Once ScrapBuddy's professionals arrive for the scheduled pickup, you can bid farewell to the clutter and unwanted furniture that have been taking up space in your home. Their team will efficiently load and transport the items, saving you the hassle of dealing with bulky furniture or finding appropriate disposal methods. With ScrapBuddy, you can declutter your space with ease, knowing that your scrap items will be properly recycled or repurposed.
Earn Cash from Scrap
One of the appealing aspects of selling through ScrapBuddy is the potential to earn cash from your scrap items. While traditional disposal methods may involve additional costs, ScrapBuddy offers a unique opportunity to monetize your unwanted furniture. By choosing ScrapBuddy's scrap pickup service, you not only clear your space but also receive compensation for the recyclable materials you provide, adding a financial incentive to your decluttering efforts.
So forget about taking good photos and writing catchy descriptions of your furniture, shortlisting the best platforms and apps to sell old furniture online, pricing your furniture and negotiating with buyers, and packing and shipping your furniture safely and cheaply.

At Scrapbuddy, you just fill in the details (like type & weight) of your furniture, select a date for pickup, and our executive will be ringing your doorbell ringing at the exact date.