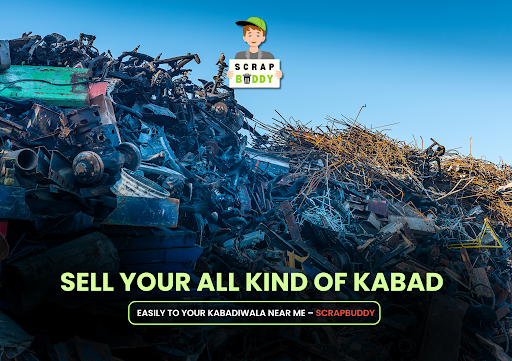 Sell Your All Kind of Kabad Easily to Your Kabadiwala Near Me – Scrap Buddy
In today's fast-paced world, where technology and innovation are shaping our lives, the constant upgrade of electronic gadgets and appliances is inevitable. As we embrace the latest advancements, we often find ourselves wondering what to do with the old and unused items, commonly known as "kabad" or scrap. Proper disposal of kabad is not only essential for a clutter-free living space but also crucial for the environment.
Enter Scrap Buddy, your trusted kabadiwala near you, offering a convenient and eco-friendly solution to sell kabad online. Lets explore the benefits of partnering with Scrap Buddy for selling your scrap and contribute to a cleaner and greener environment.
Simplified Scrap Selling Process: Scrap Buddy simplifies the entire process of sell scrap online, making it hassle-free and time-efficient. We understand that your time is valuable, and we aim to provide a seamless experience for selling your scrap. At Scrap Buddy, we bring the convenience to your doorstep. Once you schedule a pick-up, a reliable and friendly kabadiwala from our team will promptly arrive at your location to collect your scrap.
Whether you have a small quantity of scrap or a bulk load, our efficient pick-up service ensures that your scrap is collected in a timely manner, leaving you with a clutter-free living space and a sense of satisfaction in contributing to a greener environment. Selling your kabad has never been easier, thanks to Scrap Buddy's customer-centric approach and commitment to responsible waste management. Experience the convenience and efficiency of our pick-up service today and join hands with Scrap Buddy to make a positive impact on the environment, one scrap at a time.
All Kinds of Kabad Accepted: At Scrap Buddy, we take pride in our inclusive approach to waste management. We accept all kinds of kabad, ranging from electronic waste (e-waste) to Sell old furniture online , metal scraps, paper waste, plastics, and much more. Our commitment to responsible waste disposal extends to every type and quantity of scrap you may have. Whether it's a single electronic gadget or a bulk load of various materials, we offer a convenient solution to get rid of your scrap responsibly.
Electronic waste, in particular, requires special attention due to its hazardous components. With Scrap Buddy , you can rest assured that your e-waste will be handled and processed in compliance with stringent environmental regulations. Our team of trained professionals ensures that e-waste is recycled using eco-friendly methods, preventing the release of harmful substances into the environment.
In addition to e-waste, we efficiently manage other types of scrap materials. Old furniture that no longer serves its purpose can find a new life through our responsible recycling practices. Metal scraps are carefully sorted and recycled, contributing to resource conservation and energy savings. Paper waste and plastics are processed to minimize their environmental impact, reducing the burden on landfills and incinerators.
Our commitment to sustainability and environmental responsibility means that no matter the type or quantity of scrap you have, we provide a safe and eco-friendly disposal solution. At ScrapBuddy, we are driven by the vision of a cleaner and greener future, and we invite you to be a part of this journey by trusting us with your scrap. Let's work together to make a positive impact on the environment, one scrap at a time. Join hands with ScrapBuddy, your reliable partner and the best waste management company in delhi.
Responsible Scrap Disposal: At ScrapBuddy, environmental responsibility is not just a buzzword; it is at the core of our values and practices. When you choose to sell your scrap to us, you can rest assured that it will be handled and disposed of with utmost care and responsibility. We are committed to following eco-friendly recycling practices that ensure your scrap does not end up in landfills, contributing to pollution and environmental degradation.
Our dedicated team of professionals is well-trained in handling various types of scrap materials. Whether it's e-waste, furniture, metal scraps, paper waste, or plastics, we prioritize eco-friendly disposal methods. By recycling and repurposing the materials, we contribute to resource conservation and minimize the strain on natural resources.
Selling your scrap-to-Scrap Buddy means making a positive impact on the environment. Instead of ending up in improper disposal sites, your scrap is channelled into sustainable recycling processes. By choosing us as your trusted partner, you become an active participant in promoting a greener and cleaner future.
Let us work together to create a world where waste is transformed into valuable resources, reducing our carbon footprint and safeguarding the planet for future generations. With ScrapBuddy, you can confidently embrace the path of environmental responsibility, knowing that your scrap is in safe hands. Join us in our journey towards a more sustainable and eco-friendly tomorrow.
Eco-Friendly Recycling: Scrap Buddy firmly believes in the transformative power of the circular economy, where resources are continuously regenerated, repurposed, and kept in circulation for as long as possible. Embracing this visionary concept, we are committed to recycling your scrap responsibly and sustainably.
Through recycling, we play a vital role in conserving precious natural resources. By extracting valuable materials from your scrap and reintroducing them into the manufacturing process, we reduce the demand for virgin raw materials. This approach significantly lessens the environmental impact of resource extraction, safeguarding natural habitats and ecosystems.
Moreover, recycling your scrap with Scrap Buddy directly contributes to lowering energy consumption. Traditional manufacturing processes that rely on raw material extraction and processing consume significant amounts of energy, contributing to greenhouse gas emissions and climate change. By reusing materials, we curb the need for energy-intensive procedures, leading to a reduced carbon footprint and a more sustainable planet.
Competitive Pricing: At Scrap Buddy, we understand the importance of fair compensation for your valuable scrap. Rest assured that when you choose to sell scrap online to us, you'll receive competitive prices as part of our commitment to fair and transparent pricing. Our values revolve around rewarding our customers for contributing to responsible waste management and recycling.
With a customer-centric approach, we ensure you get the best value for your scrap items through our transparent pricing system, free from hidden costs or surprises. Trust us to offer honest and competitive rates that reflect the true worth of your scrap. By selling your scrap-to-Scrap Buddy, you not only declutter your space but also get fair compensation for contributing to environmental sustainability. Our ethical business practices build trust and foster long-term relationships with our customers.
Experience the satisfaction of selling your scrap at competitive prices while making a positive impact on the environment. Our dedication to fair pricing and responsible recycling makes us the preferred choice for your scrap selling needs. Let's work together toward a sustainable future, one scrap at a time.
Convenient and Contactless Transactions: In today's pandemic-stricken world, safety has become a paramount concern for individuals and businesses alike. At Scrap Buddy, we recognize the importance of ensuring a safe and secure environment for our customers. That's why we have implemented convenient and contactless transactions, prioritizing your well-being and adhering to social distancing norms.
With our user-friendly website and app, you can easily schedule a pick-up for your scrap without the need for any physical contact. From the comfort of your home or workplace, you can initiate the process, ensuring minimal exposure and maximum safety. Our seamless online platform allows you to complete the transaction efficiently, eliminating the need for in-person interactions.
As you sell your scrap-to-Scrap Buddy, you can trust that your safety is our top priority. Our trained and responsible kabadiwalas strictly follow all safety protocols, ensuring a hygienic and contactless pick-up experience. We remain committed to maintaining the highest standards of safety and hygiene throughout the entire process.
Contribution to a Greener Future: By choosing to sell your scrap to Scrap Buddy , you become a proactive participant in creating a greener and more sustainable future, as your seemingly small act of recycling has a profound impact on the environment. By diverting your scrap from landfills and incinerators, you significantly reduce the amount of waste that accumulates in our ecosystems, contributing to responsible waste management.
Moreover, your valuable contribution helps conserve natural resources by recycling materials from your scrap, reducing the need for virgin raw materials that often require energy-intensive extraction processes. This conservation effort leads to a reduction in greenhouse gas emissions and minimizes the overall environmental footprint, fostering an eco-friendlier approach.
Every piece of scrap that you sell to Scrap Buddy becomes a valuable resource in the circular economy. Through recycling and repurposing, we extend the life cycle of materials, thereby reducing the demand for new production and minimizing environmental degradation, making each action count toward a sustainable future.
Your actions set an example and inspire others to follow suit, creating a ripple effect of positive change in our society. Together, we can make a significant impact on reducing waste, conserving resources, and promoting sustainable practices, establishing a collective responsibility for the planet's well-being.
So, let's join hands and be the driving force towards a greener and more sustainable future for generations to come. By selling your scrap-to-Scrap Buddy, you actively contribute to the solution for a cleaner and healthier planet, where responsible waste management is at the heart of our commitment to environmental preservation.
Selling your kabad to Scrap Buddy is a simple and straightforward process:
The process is straightforward and hassle-free. To get started, visit the Scrap Buddy website. Next, schedule a pickup by selecting the type and quantity of scrap you want to sell and choosing a convenient pickup time. A friendly kabadiwala from Scrap Buddy will arrive at your doorstep at the scheduled time to collect the scrap. Once the scrap is verified, you will receive instant payment directly to your preferred mode of payment. By partnering with ScrapBuddy, you not only declutter your living space but also contribute to a cleaner and greener environment. Sell scrap online has never been this easy and rewarding!
ScrapBuddy, a trusted name in eco-friendly waste management, offers a convenient and responsible solution for selling all kinds of scrap, including old electronic devices, furniture, metal scraps, paper waste, and plastic materials. As your reliable kabadiwala near you, Scrap Buddy provides a seamless and eco-friendly way to sell all kinds of kabad. By choosing ScrapBuddy, you not only declutter your living space but also contribute to a cleaner and greener environment.
Let's join hands and sell our scrap responsibly, promoting a sustainable future for generations to come. Together, with Scrap Buddy, we can make a positive impact on the environment and create a better world for everyone. Sell your kabad with Scrap Buddy, and be a part of the green revolution!