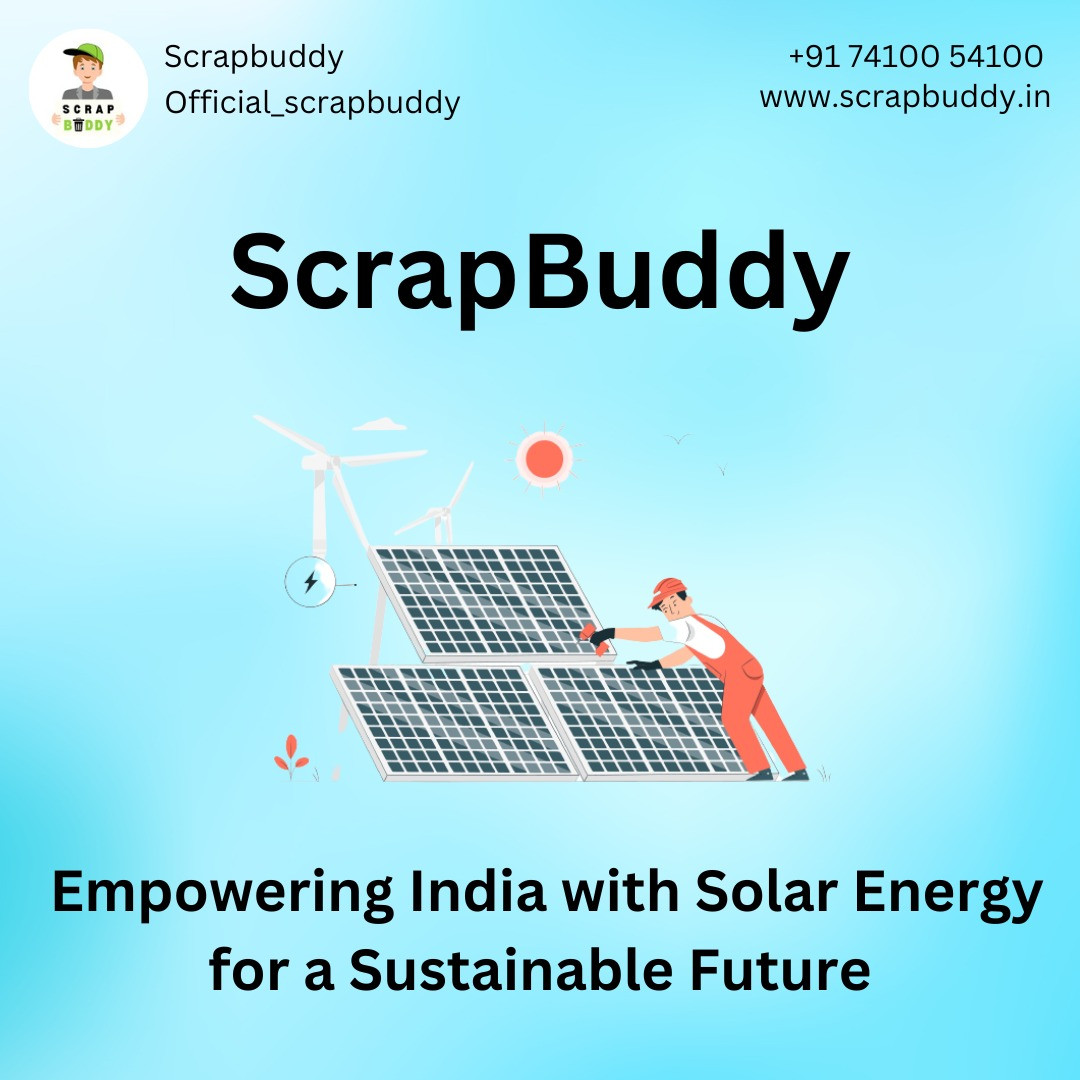 ScrapBuddy: Empowering India with Solar Energy for a Sustainable Future
Introduction
At ScrapBuddy, we're committed to fostering sustainable practices that go beyond just scrap management. India's energy landscape is rapidly evolving, and solar power plays a pivotal role in the nation's quest for a sustainable future. In this blog post, we'll explore the significance of solar energy in India, the environmental benefits it offers, and how ScrapBuddy is contributing to the solar revolution.
The Solar Energy Boom in India
India's solar energy sector has witnessed remarkable growth in recent years, and for good reasons:
Abundant Sunshine: India enjoys abundant sunlight throughout the year, making it an ideal location for solar power generation.
Reduced Carbon Footprint: Solar energy is a clean and renewable source, reducing greenhouse gas emissions and mitigating climate change.
Energy Independence: Solar power reduces India's reliance on fossil fuels and imports, enhancing energy security.
ScrapBuddy's Role in Solar Energy
ScrapBuddy actively supports the adoption of solar energy in India through various initiatives:
Solar Panel Recycling: As solar panels have a finite lifespan, we facilitate the responsible recycling of old panels to ensure their materials are reused or properly disposed of.
Waste Reduction: By recycling solar components, we contribute to reducing electronic waste, a significant challenge in India.
Promoting Sustainability: We promote solar energy solutions and encourage businesses to consider solar power options.
Benefits of Solar Energy for India
Solar energy offers numerous advantages for India:
Environmental Sustainability: Solar power reduces air and water pollution and minimizes India's carbon footprint.
Cost-Efficiency: Solar energy can lead to significant cost savings over time, making it a viable choice for both businesses and individuals.
Job Creation: The solar industry creates job opportunities in manufacturing, installation, and maintenance.
How You Can Contribute with ScrapBuddy
You can actively participate in India's solar energy revolution with ScrapBuddy:
Responsible Solar Panel Disposal: Use ScrapBuddy to ensure the responsible disposal or recycling of old solar panels.
Adopt Solar Power: Consider installing solar panels for your home or business to reduce your reliance on non-renewable energy sources.
Conclusion
India's journey towards a sustainable future is closely intertwined with the widespread adoption of solar energy. ScrapBuddy is proud to be part of this green revolution, contributing to responsible solar panel disposal and reducing electronic waste.
Join us at www.scrapbudy.in in our mission to empower India with clean, renewable energy. Together, we can harness the power of the sun for a greener and more sustainable tomorrow