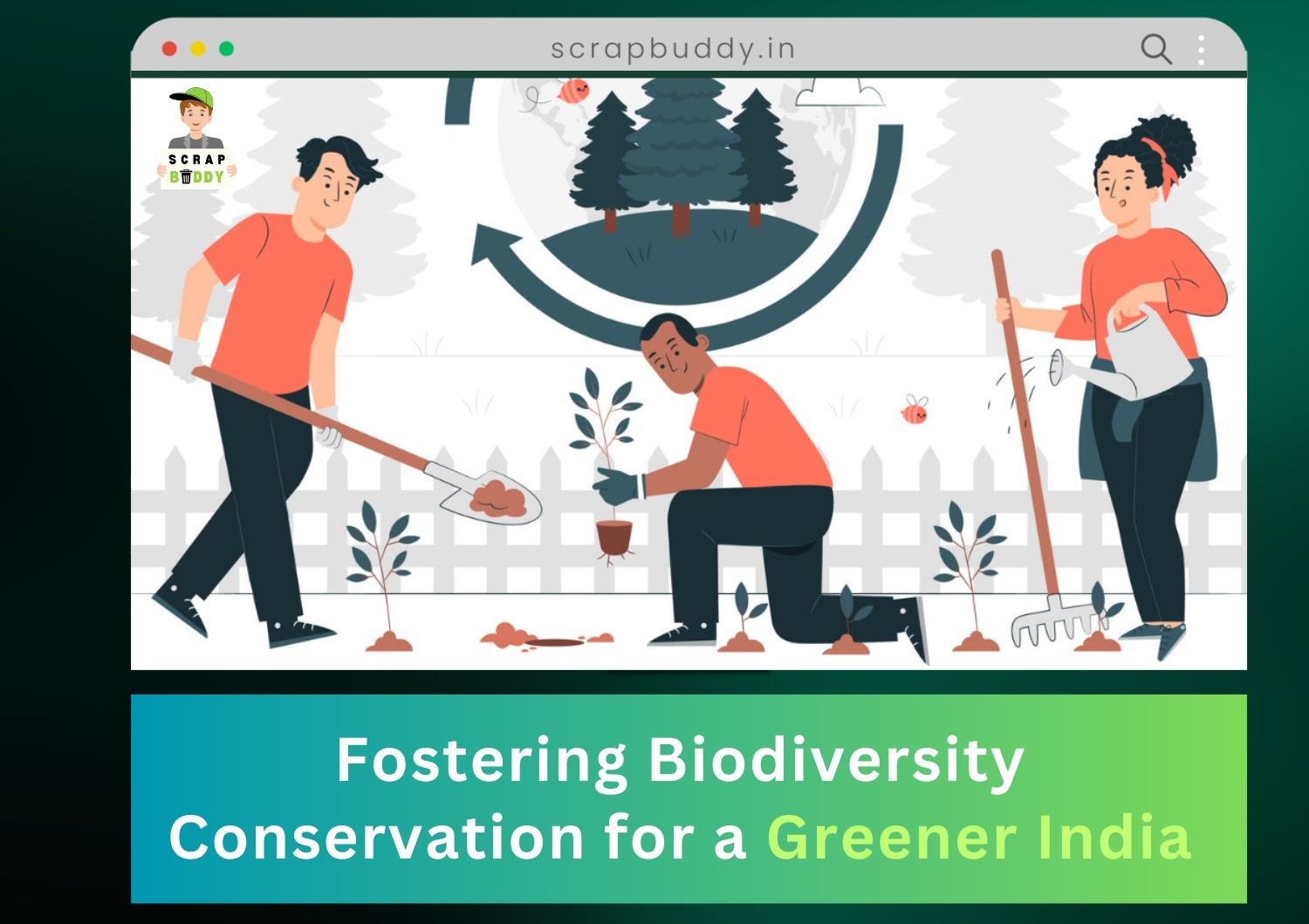 ScrapBuddy: Fostering Biodiversity Conservation for a Greener India

Introduction
At ScrapBuddy, our commitment to sustainability extends to the conservation of India's rich biodiversity. India is home to a diverse range of flora and fauna, making it a global biodiversity hotspot. Preserving this natural heritage is not just a responsibility but a necessity. In this blog post, we'll explore the significance of biodiversity conservation in India, the environmental benefits it offers, and how ScrapBuddy contributes to eco-friendly practices that support this cause.
The Rich Biodiversity of India
India's diverse ecosystems, from lush rainforests to arid deserts, are home to a staggering array of species:
Unique Fauna: India hosts iconic species like the Bengal tiger, Indian elephant, and the one-horned rhinoceros.
Floral Diversity: The country boasts a wide variety of plant species, including medicinal herbs and endemic flora.
Ecosystem Services: Biodiversity provides essential ecosystem services, such as pollination, clean water, and climate regulation.
The Importance of Biodiversity Conservation
Biodiversity conservation offers numerous benefits:
Ecosystem Stability: Biodiversity enhances ecosystem resilience and stability, making ecosystems less susceptible to environmental changes.
Human Well-being: Healthy ecosystems provide resources for food, medicine, and livelihoods, supporting local communities.
Climate Change Mitigation: Biodiverse ecosystems store carbon and contribute to climate change mitigation.
ScrapBuddy's Contribution to Biodiversity Conservation
ScrapBuddy actively supports biodiversity conservation through eco-friendly practices:
Recycling and Upcycling: By promoting recycling and upcycling, we reduce the demand for new resources, which can help preserve natural habitats.
Environmental Responsibility: We encourage users to adopt eco-friendly practices, reducing their ecological footprint.
Supporting Sustainable Products: We connect businesses and individuals with sustainable products and materials, reducing the environmental impact of production.
How You Can Contribute with ScrapBuddy
You can actively support biodiversity conservation with ScrapBuddy:
Recycle Responsibly: Use ScrapBuddy to recycle materials and reduce waste, helping protect natural habitats.
Choose Sustainable: Support products and materials that prioritize eco-friendly practices, available through ScrapBuddy.
Environmental Awareness: Join the ScrapBuddy community to stay informed about biodiversity conservation initiatives and share your knowledge.
Conclusion
Biodiversity conservation is vital for India's ecological, cultural, and economic well-being. ScrapBuddy is proud to be part of the solution, promoting eco-friendly practices that support biodiversity conservation.
Join us at www.scrapbudy.in in our mission to foster biodiversity conservation, reduce waste, and create a greener, more sustainable India. Together, we can preserve India's natural heritage for generations to come