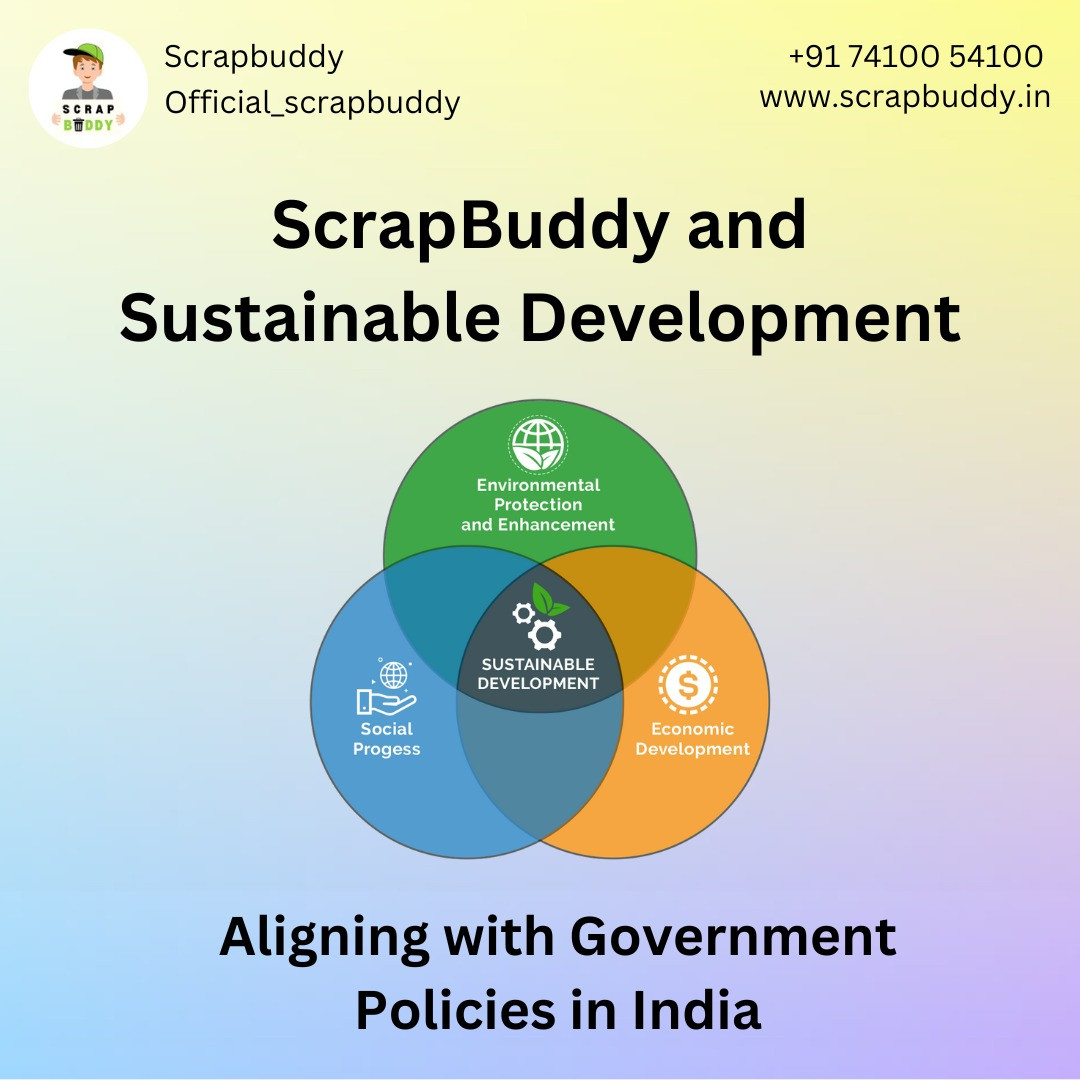 ScrapBuddy and Sustainable Development: Aligning with Government Policies in India
Introduction
At ScrapBuddy, we believe that sustainable development is not just a choice but an imperative for India's future. Government policies play a pivotal role in shaping the country's sustainable development landscape, and ScrapBuddy is proud to align with these policies. In this blog post, we'll explore the importance of government policies in India's sustainable development journey and how ScrapBuddy contributes to these initiatives.
Government Policies for Sustainable Development in India
India's commitment to sustainable development is reflected in various government policies and initiatives:
National Action Plan on Climate Change (NAPCC): A comprehensive strategy to address climate change, focusing on renewable energy, energy efficiency, and sustainable agriculture.
Swachh Bharat Abhiyan (Clean India Mission): A campaign to promote cleanliness and proper waste management, crucial for a sustainable environment.
Make in India: Encouraging sustainable manufacturing practices, technology adoption, and economic growth.
Extended Producer Responsibility (EPR): Making producers responsible for the end-of-life disposal of their products.
ScrapBuddy's Contribution to Sustainable Development
ScrapBuddy aligns with these government policies in several ways:
Waste Management: We offer efficient and responsible waste management solutions that complement the Swachh Bharat Abhiyan's objectives.
Resource Optimization: Our platform promotes the efficient use of resources, aligning with the Make in India initiative's goals.
EPR Compliance: ScrapBuddy encourages electronic manufacturers to fulfill their EPR obligations by responsibly managing electronic waste.
Supporting the Circular Economy
ScrapBuddy is a proponent of the circular economy, a concept that has gained prominence in government policies related to sustainability:
Circular Design: We promote circular design principles by encouraging the recycling and reuse of materials.
Resource Efficiency: Our platform contributes to resource efficiency, a key aspect of the circular economy.
Individual and Corporate Responsibility
Through ScrapBuddy, individuals and businesses can actively participate in sustainable development:
Responsible Scrap Management: List your scrap materials on ScrapBuddy to ensure they are responsibly managed, reducing environmental impact.
Sustainable Procurement: Source recycled materials through ScrapBuddy, supporting sustainable manufacturing practices.
Conclusion
Government policies are instrumental in shaping India's path to sustainable development, and ScrapBuddy is proud to be part of this journey. By aligning with policies like NAPCC, Swachh Bharat Abhiyan, and Make in India, we are contributing to a more sustainable, cleaner, and greener India.
Join us at www.scrapbudy.in in our commitment to sustainable development, responsible waste management, and a circular economy. Together, we can build a brighter and more sustainable future for India.